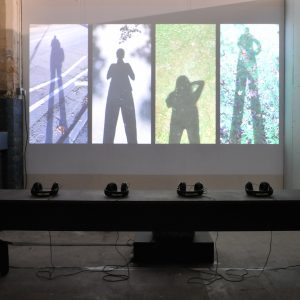 Practising Uncertainty Exhibition, Backlit, Nottingham, 2021
A four channel AV installation with mobile phone audio and video footage contributed by 12 young people. I made a call out to invite young people to record their spoken reflections on their relationship to place, whilst they simultaneously recorded their shadow figure.
The projection combined the 12 sections of footage accompanied by four different audio tracks, a different young person speaking about their connection to place on each. The audience was invited to choose which young person's voice they wanted to accompany the visuals by picking up a set of headphones; or switching between them; or watching the video several times with a different person's voice each time.